Web Technology Technical Audit and Source code Audit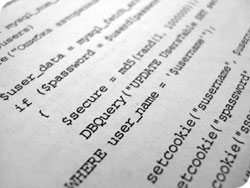 Sorry, this article is not available in the language you have chosen.
En Sakontek no sólo auditamos los fallos de seguridad externos de las páginas web, también podemos profundizar en el código y encontrar directamente gran cantidad de vulnerabilidades, dándole soluciones y garantizando un nivel óptimo de seguridad en sus aplicaciones empresariales.
Auditoría de Código Fuente
---
Mediante la auditoría de código fuente le proporcionamos a empresas que desarrollen su propio software la facilidad de externalizar las auditorías de código, que permitirán a sus aplicaciones convertirse en software más seguro y que le garantizarán la eliminación de gran cantidad de vulnerabilidades conocidas en su código.
Entre los lenguajes de programación que auditamos, se encuentran lenguajes de servidor como PHP, ASP, JSP y .NET