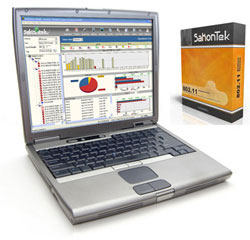 Analyzing different layers of protocol gives the investigator the capacity to identify suspicious packets that could indicate an attack in progress or one that is initiating, which would likely never be perceived in the higher layers of other protocol.
Read more...
Bluetooth devices have experienced tremendous growth in recent years. This growth has been so significant that all new generation devices such as mobile phones now include integrated bluetooth functionality. These devices with their integrated functionality make it possible to obtain anonymous statistics on people located in a specific area, even when the same device with an identifier is returned on different days on a specific schedule.

Read more...

Wireless Guardian is an Intrusion Detection Expert System for Wi-Fi networks. Its engine is programmed to use advanced techniques and attack patters to detect anomalies such as performance and security breakdowns on 802.11 networks. This product permits people with basic knowledge on wireless networks to understand and interpret events and to detect the attacks being made on their Wi-Fi network.

Read more...