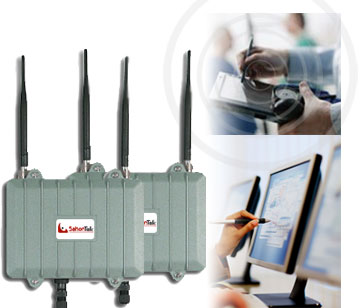 Wireless Guardian is an Intrusion Detection Expert System for Wi-Fi networks. Its engine is programmed to use advanced techniques and attack patters to detect anomalies such as performance and security breakdowns on 802.11 networks. This product permits people with basic knowledge on wireless networks to understand and interpret events and to detect the attacks being made on their Wi-Fi network.
G

ood warriors lure their adversaries to them, and they are never drawn away from their area of strength.




Sun Tzu
Wireless Guardian is an intrusion detection expert system used to analyze performance, and it was especially designed for use by SMEs. One difference between Wireless Guardian and other intrusion detection systems lies in its interface, which is designed to be user friendly to IT novices. Another distinguishing factor is its capacity to carry out an exhaustive 802.11 layer 2 protocol analysis. Its simplicity makes it possible for personnel with basic IT knowledge to understand the events that are occurring on the wireless network. Personnel can also save a log file, and follow the advise given by the system in each situation.
Did you know that an attacker can compromise your wireless network without being connected to the network?
Did you know that there are 30 different attacks that can be used against your wireless, and that most commercial APs only detect 5% of these attacks?
Does your antivirus protect your from all attacks?
How do you know what is happening on your wireless network if you don't have the specialized hardware and software to make this possible.
Why do you need Wireless Guardian?
Network limits
While it is unlikely that a hacker will connect a system right in your office, it is easy for attacker to gain remote access to the wireless network, and if the wireless is not properly configured, hackers can access all the information on your Intranet as well as any information on the computers connected to the Intranet. In consequence, any system connected to the network -including the salesperson's laptop with that customer database or the designer's system where he is working on the new prototype- are possible victims of the attacker and all the consequences resulting from an attack.
Firmware, driver and operating system failures
Because of wireless device software failures, it is possible for an attacker to gain control over your system without even being connected to the same network or while you are not even connected to the network. With only your wireless card active, hackers can execute denial of service attacks or inject malicious code on your machine.
Who can use it?
Wireless Guardian is a product designed especially for Wi-Fi networks. It is a highly sophisticated IT product that was designed especially for IT novices. Thus, anyone with a basic knowledge of networking can understand and use this device.
What attacks is it capable of detecting?
Administration and control frame spoofing
Denial of service attacks
Reinjection attacks
Active attacks to recover WEP and WPA passwords
Interference attacks
Frame flooding attacks

EAPOL-Start/Logoff attack
EAPOL ID flood
EAPOL spoofed success/failure

Deauthentication/Disassociation attacks
Physical layer attacks, Radio Jamming
Media access and synchronization attacks

Energy saving mode
RTS/CTS
NAV attack
CSMA/CA attack
Beacon PCF attack
Synchronization attack based on Beacon frames

Errors on the drivers and firmware
Spoofing
Man-in-the-middle-attacks
Illegal wireless bridges
Illegal access points
Traffic injection attacks
Detection of interferences
Detection of hidden node problems
Detection of configuration errors
Detection of hardware failures
Technical specifications:
266 Mhz AMD ElanSC520
128 Mbyte SDRAM, soldered on board
1 Mbit BIOS/BOOT Flash
CompactFLASH Type I/II socket
1-3 10/100 Mbit Ethernet ports, RJ-45
1 Serial port, DB9. (optional 2nd serial port)
Power LED, Activity LED, Error LED
Mini-PCI type III socket. (t.ex for optional hardware encryption.)
PCI Slot, right angle 3.3V only. (t.ex for optional WAN board.)
8 bit general purpose I/O, 14 pins header
Hardware watchdog
Board size 4.85" x 5.7"
Power using external power supply is 6-20V DC, max 10 Watt
Option for 5V supply using internal connector
Operating temperature 0-60 °C