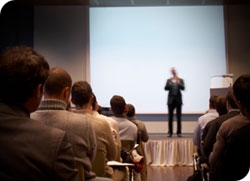 Workshops are hosted with the objective of configuring a practical laboratory for every attendee, so that each one can learn through hands-on and practical solutions that are relevant to a specific technology (Duration: 6h). You can also contact us, and we offer seminars on general security, Wi-Fi security and free software (Duration: approx 3h).
C

ontact us, and we can host a specialized course for you company. We will make sure the course is personalized to suit your company, and it will be taught by competent experts in the field, who are capable of transferring the concepts of complex materials, rather than simply disseminating information. This assures you will receive the value added necessary so that your staff receive proper training rather than simply acquiring information.
Read more...

Advanced Wi-Fi security course

Conviértase en un experto en seguridad Wi-Fi

---

The advanced Wi-Fi security course is designed for those who are looking to develop a deeper understanding on 802.11 network security. This course is specifically designed to cover low level Wi-Fi network functionality, thus training the attendees to become protocol specialists. It also trains the students on security techniques used to detect attacks on said networks. Cutting-edge techniques, including some that are not yet released, will be explained in this course. Students will have the opportunity to learn from the experience of the best prepared instructors.

Pre-register without commitment.

Read more...

Basic Wi-Fi security course

This security course has been developed to train people, who have basic level knowledge of networks. The course practically and theoretically covers the different general aspects of Wi-Fi network security. Students will learn the basics on Wi-Fi network functionality, its major weaknesses, the tools that exist to exploit these weaknesses and the measures that can be taken to mitigate the attacks that black hat hackers could be interested in executing on your network.

Read more...